Syllabus: ME 202 - Strength of Materials
---
3 Credits (9–12 hrs per week)
Introduction to engineering stress and strain. Topics include thermal loading, stress distributions and deflection (resulting from axial, torsional, and transverse/beam loadings); combined loading problems, stress and strain transformation; Mohr's circle; and column buckling.
Learning Outcomes
Develop an understanding of normal and shear stress and strain.
Demonstrate an understanding of the stress/strain behavior of materials, and the ability to extract information from the stress/strain curve, such as moduli, strengths etc.
Demonstrate the ability to calculate stress and deflection of axially loaded structures
Demonstrate the ability to calculate stress and deflection of torsionally loaded structures
Demonstrate the ability to calculate normal and shear stress and deflection in beams
Apply knowledge of stress distributions to calculate stresses in structures under combined loading
Show an understanding of simple buckling phenomena.
---
Required Materials and Technology
Calculator (scientific, non-graphing)
Engineering paper
FYI: All practice problems in this course are delivered through Maple T.A. You do not need to purchase or obtain any licenses; the link and instructions to access Maple T.A. are provided in the course, free of charge to students.
Textbook
Mechanics of Materials, Ninth Edition, R.C. Hibbeler,
Ebook: most available internationally but not the cheapest option. ISBN: 978-0-13-335683-0.
Paperback: cheapest option but may not ship to all countries in time. ISBN: 978-9332518605. Search ISBN on Amazon for cheapest prices and best shipping options.
Hardcover: most expensive and has same shipping issue. ISBN (hardcover) 978-0-13-325442-6.
Compare prices for your textbooks through the University Store Price Comparison site. They will show you all of their options from the University Store plus several online options to help you find the best price.
Technology
It is assumed that you either have your own computer or you have consistent access to a computer. You need to have the appropriate permissions on your computer to download lesson content, access websites, and update and/or download software as needed along with consistent, reliable access to an Internet connection. Visit the Orientation to Online Learning page in the first lesson of your course to verify that you have your computer set up properly.
Please read the I-Learn Computer Standards and be sure you have the proper technology to access I-Learn and complete your course.
You will use Microsoft Office products in this course. If you do not yet have the Microsoft Office Suite (Word, Excel, PowerPoint, etc.) on your computer, you may use this free download to obtain the software. Note: The free download is only for BYU-I students with a current login.
Other hardware:
Each unit contains several videos that you will be watching. You may wish to obtain

earbuds or headphones

. If you are taking this course on campus, this is required in the computer labs.
---
Course Architecture
This course runs in 14 one-week lessons with Unit 00 at the beginning and Unit 13 to wrap up. Each unit is broke into 2–4 subunits and a Mastery Quiz. The subunits each contain an intro video and reading, example video and practice quiz, and a homework activity.
All units are open from the beginning of the semester. However, you may not access a Mastery Quiz until you have achieved a grade of 70% or higher on the previous unit's Mastery Quiz and turned in all the homework for the previous unit. You will progress through the course by achieving a basic competency in the outcomes, unit by unit. After Unit 10, you will have a cumulative final exam and move on to master the same outcomes at a more advanced level.
The Course Outline below shows the value of each unit and how it relates to the basic or advanced levels. It also shows how grades will be determined. Your grade will start at 0% at the beginning of the semester and increase with each completed assignment. For instance, after completing Unit 01 you could have a maximum grade of up to 7.5%. After completing Unit 02, you could have built your grade up to a possible 14%, if you receive a perfect score on everything in Units 01 and 02. "A-Pacing" refers to a student completing one unit per week for the entire semester, therefore being eligible for an "A" grade.
The final assignment at the basic level is completion of the Final Exam in Unit 10. After completing the Final Exam, if you are happy with your cumulative grade, you may choose to skip the final advanced units. However, the best grade you could achieve in the course by quitting at this point is an 85%, if you receive a perfect score on everything in units 00 through 10. If you choose, you may complete any or all of the advanced unit assignments to boost your grade. Each assignment will help you raise your grade toward an "A." Once you have built your grade as high as you want, you are free to be finished with the class.
Course Outline and Grading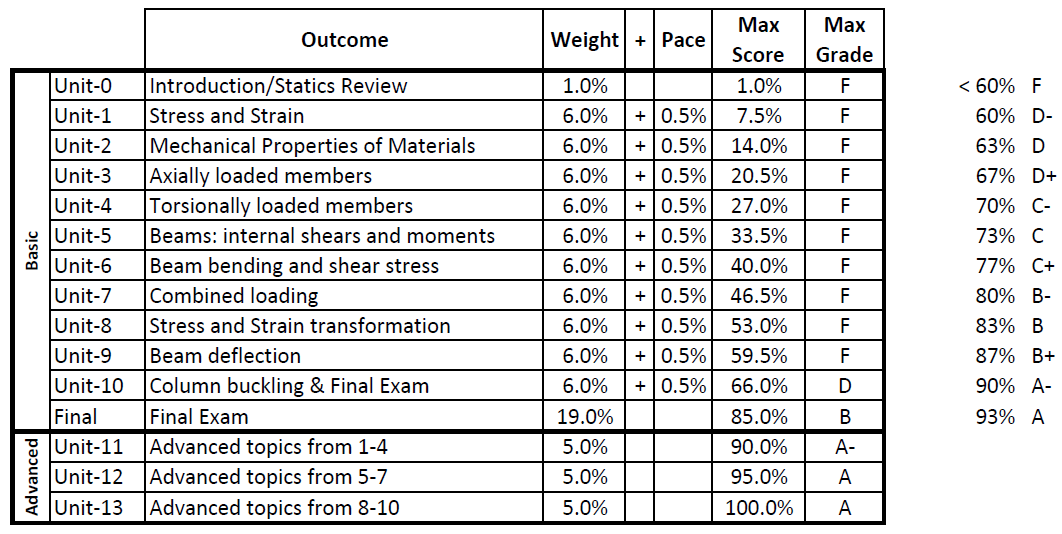 Grade Breakdown by Category
| | |
| --- | --- |
| Category | Weight |
| Introduction/Review | 1% |
| Practice Problems | 5% |
| Homework | 10% |
| Mastery Quizzes | 45% |
| Pacing | 5% |
| Final | 19% |
| Advanced Problems | 15% |
Typical Unit Structure
There are 14 units. Within each unit there are 2–4 subunits, each with practice problems and homework problems. At the end of the unit is a Mastery Quiz. The practice problems are accompanied by an example video that students are able to watch in order to learn the concepts. The homework problems help students apply the concepts they have already learned, in new ways. And the Mastery Quiz is is the final assessment to "prove" your mastery of the concepts. See the table below as an example weekly schedule:
Midweek

Tuesday

First su-unit: practice and homework problems

Wednesday

Second subunit: practice and homework problems

End of Week

Thursday

Third subunit: practice and homework problems

Friday

Fourth subunit: practice and homework problems

Saturday

Mastery Quiz
Mastery
The course is set up to require a score of at least 70% on each Mastery Quiz before you will be able to access the next Mastery Quiz. For instance, you would need to achieve at least 70% on Unit 02 Mastery Quiz before you will be able to work on Unit 03 Mastery Quiz, and so forth. You will have unlimited tries each practice quiz. On each Mastery Quiz you have two attempts, then you must contact your Instructor to discuss your struggles request another attempt. You have one attempt on the Final Exam.
Pacing
You may work through the units at your own pace. However, you will receive a "pacing" grade for each unit, to encourage you to keep up with the class and not fall behind. A pacing grade is associated with Units 00 through 11. You will report this pacing grade yourself in I-Learn. Once you complete the Mastery Quiz with a 70% or higher, the Pace Points Quiz for that unit will appear. The pacing quiz will have you answer honestly one question, "I completed the Mastery Quiz with at least a 70%." If you have not finished all of the assignments by one week after the A-Pacing date, the pace quiz will not become available.
Late Work Policy
Work can be completed and resubmitted at any time before the semester ends. However, you may only receive the Pace Points grade if you complete each unit no later than one week after the A-pacing date for the unit. Plan your weekly schedule wisely to set aside adequate study time and allow you to work at a healthy, steady pace throughout the course.
---
Keys to Success
BYU-Idaho Learning Model
All courses, including online courses, at BYU-Idaho follow a pattern of learning that enables students to take more responsibility for their own learning and for helping to teach one another. This pattern is called the Learning Model. Take Charge of your education by applying the Learning Model and Learning Model interactive tutorial are two pages to help you better understand the Learning Model.
Tips for Success in this Course
As a 3-credit course, you should expect to spend around 9–12 hours per week (3–4 hours per credit-hour) completing course activities and assessments. Plan your weekly schedule wisely to set aside adequate study time and allow you to work at a healthy, steady pace throughout the course.
Read your Announcements and communications from your instructor each week before beginning the lesson. Your instructor will provide timely information about changes, expectations and other important things to note as you begin the lesson.
Each unit also has a Questions and Conversations forum, where students can help each other as they work through the unit assignments. We encourage you to visit this forum often to help your fellow students and receive help in return. Your instructor and/or TAs will also be involved in this forum to help answer and clarify questions posted.
---
University Policies
Student Honor Code
Student Honor is following the path of discipleship and learning to be more like Christ—learning to think, to feel, and to act more as He does. Following the Honor Code is of great importance as you strive to be a disciple of Christ. Academic honesty and integrity is expected of all BYU-I students.
To copy another's work from the Internet, a book, or from any other source and claiming it to be your own work is plagiarism. Read the official definitions of plagiarism and cheating from the Academic Honesty portion of the Honor Code. Each case of plagiarism or cheating will be dealt with by the instructor. Any academic dishonesty issue will be referred to the BYU-I Dean of Students, if necessary. When working on a group project, you have the responsibility to assure that others in the group do not plagiarize.
Even though you are taking this course online, BYU-Idaho's Dress and Grooming standards still apply.
By adhering to the Honor Code you will create a learning environment, "consistent with the ideals and principles of The Church of Jesus Christ of Latter-day Saints."
Student Policies
You are responsible for understanding all university student policies. Read the Student Policies and Procedures which include Student Honor, Students with Disabilities, Sexual Harassment, Complaints and Grievances, etc. There is also a University Policies page in your course with helpful contact information.
Disclaimer:
This syllabus and the course schedule may be changed at any time prior to/or during the semester as the need arises, based upon circumstances. Any changes will be available to view on the course documents.
---
Student Support
Tutoring and Academic Support
Tutoring options for online students are available through the Academic Support Centers. There are tutors available to help you with your writing questions and there might be course-specific tutoring available. Check the Online Tutoring page for more details.
Online Support Center
The Online Support Center provides many links and contact information for services such as: technology support, registration, academic support and other student resources.
---
Disclaimer
The instructor reserves the right to change any part of this syllabus any time during the semester in order to adapt to changing course needs. You will be notified prior to any changes that may take place.