Welcome to FDSCI 205: DNA: Genetic Identity, Disease, and Design
Course Introduction
When was the last time someone told you how much you look or act just like your sibling, your parent, or even your grandparent?
Have you ever wondered how DNA is used to solve crimes?
Are you worried about getting cancer from eating genetically modified foods?
How likely is it that you will suffer from the same diseases that took the lives of your great-grandparents?
The field of genetics is ever present in our lives. One of the goals of this class is to help you understand the vocabulary and concepts associated with this field in order for you to feel more comfortable sharing your ideas about DNA forensics, biotechnology, genetically modified organisms, and personalized genomics.
In addition to learning about DNA, this course will provide you with opportunities to become a better student. You will practice writing skills on some assignments. You will become better acquainted with your peers as you work together on assignments. Through these experiences, it is the hope of the course designers and your instructor that you will develop academic skills and the ability to work in a team while gaining an understanding of what DNA is and how it can affect you and your (future) family.
Course Description
The above introduction is intended to help you feel the excitement of studying genetics. The following is a more formal statement about the course—yet still important for you to read and understand. It's the official course description (from the BYU-Idaho Academic Catalog).
The structure of DNA stands as one of the greatest discoveries of the 20th century and has led to multibillion dollar advancements in medicine and agriculture. An understanding of DNA and its applications is necessary to distinguish fact from fiction, make informed decisions, and take full advantage of emerging DNA technologies. This course presents the fundamental concepts related to DNA including its history, structure, function, regulation, and inheritance. The remaining course material explores multiple issues and topics that are founded in DNA technology. These include the causes and treatments associated with genetic disorders, the creation of genetically modified foods, identification through DNA fingerprinting, tracing of family lineages, the applications and ethics of cloning and gene editing, and the underlying mechanism of organic evolution.
Prerequisites
FDSCI 101, FDENG 101, Foundations Math Requirement.
Course Outcomes
Identify the role of DNA in humans and its application in modern biotechnology issues.
Explain DNA's role in the complexity of life processes, the variation among God's children, and the uniqueness of the individual.
Articulate opposing views on scientific issues and show how evidence supports or refutes a conclusion.
Integrate gospel perspectives with science in evaluating biological issues.
Find and evaluate scientific resources.
Become informed and involved citizens.
Course Materials
Textbook
Genetics and Genomics in Nursing and Health Care, (2012) by Theresa Beery and M. Linda Workman.
An electronic version of this textbook is available for free online through the BYU-Idaho Library. Your BYU-I username and password are required.
If you would like a hard copy of the book, use the following information:
ISBN 978-0-8036-2488-7
When you saw the title of the textbook above, you may have wondered why you're being given a textbook that is intended for health-care professionals. Here's why:
It provides appropriate background for any interested learner who wants to know more about genetics.
It's a free resource for you as a BYU-Idaho student!
There are many other supporting resources that will be used in the course. All of them are provided in the course at no cost to you.
Software
Some items you will access in the course require software in the Microsoft Office Suite. If you do not already have access to this software, a free download for PC or Mac is available through the University Store.
Recommended Browser
Google Chrome is the recommended browser for use with I-Learn. However, you must use a recent version to see all FDSCI 205 content. If you have questions about your browser please contact the BYU-I Help Desk by email: helpdesk@byui.edu, or phone: 1-866-237-5195.
FDSCI 205 includes many tutorials and animations. You must enable your browser to display blocked (or unsafe) content. All the content in this course is safe to display and will not harm your computer. You may also need to install the most recent version of Adobe Flash.
Grading Policies
Grade Components
FDSCI 205 uses a points system. The total points associated with various grading categories and the associated percentages are shown in the table below.
| | | |
| --- | --- | --- |
| GRADE CATEGORY | POINTS IN CATEGORY | APPROXIMATE PERCENTAGE |
| Assignments | 135 | 13% |
| Discussions and Participation | 110 | 11% |
| Quizzes | 165 | 16% |
| Exams (six exams; 100 points each) | 600 | 60% |
| Total Points | 1010 | 100% |
Grading Scale
| | | | | | |
| --- | --- | --- | --- | --- | --- |
| A | 93–100% | B- | 80–82.9% | D+ | 65–69.9% |
| A- | 90–92.9% | C+ | 77–79.9% | D | 60–64.9% |
| B+ | 87–89.9% | C | 73–76.9% | D- | 55–59.9% |
| B | 83–86.9% | C- | 70–72.9% | F | 0–54.9% |
Due Dates
Please see the Calendar for all due dates. It can be accessed from the navigation bar on the left-hand side of the screen. As you look through the due dates displayed in the calendar, pay specific attention to when discussion posts are due, including response posts, as well as to due dates for quizzes, exams, activities, and other submissions. For more information on how to access, and use the calendar
please watch an important tutorial.
Late Work Policy
Late work is not accepted. However, your instructor may extend the deadline if you experience extenuating circumstances. Contact your instructor to discuss personal or emergency situations.
Tips for Success
This course will provide valuable experiences for you, if you are willing to put forth the effort to fully engage in the designed activities. As with most things in life, what you get out of this course will depend upon what you put into it. The following recommendations will strongly increase your probability of being successful in this course.
According to university policy, students should spend three to four hours per week per credit hour for each course. This is a three-credit course; thus, you should plan to spend nine to twelve hours per week on this course.
Your primary means of course navigation should be the Modules view. This view will allow you to experience the intended course flow created by the designers. The I-Learn Calendar may be used to help remind you of due dates, but it should never be used as the means of course navigation. Navigating from the Calendar is a problem because it will cause you to miss important information and experience confusion since you may not see some instructions.
As you navigate the course from the Modules view, read all material and instructions in every course page.
Plan your time so that you work consistently throughout each week. You will have a quality learning experience with less stress if you spread the work out through the week.
Scan through the content pages at the beginning of each week and gauge the amount of time you will need to spend on the activities. Plan your week accordingly.
Modules
You will study three modules, as shown in the graphic below.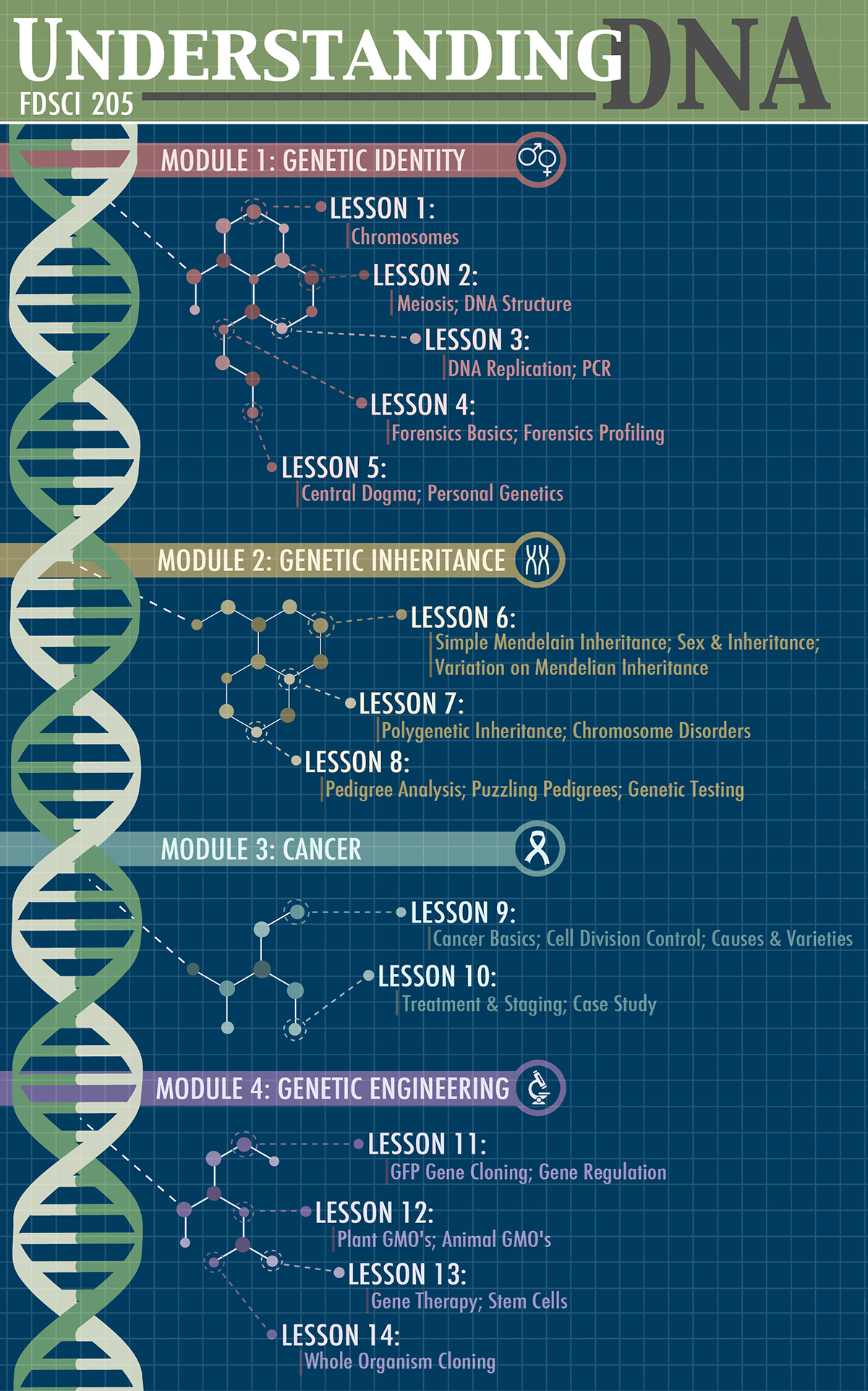 Help
Tutoring
Tutoring options for online students are available through the Academic Support Centers. Check the details in the link provided. You are particularly encouraged to use the services of the BYU-Idaho Writing Center.
Online Support Center
The Online Support Center (OSC) is available to help you with problems in online courses. If you have questions about this course, the instructor, technical difficulties, or your online learning learning experience, please contact the OSC:
Phone: (208) 496-1800
Toll-free Phone: (866) 672-2984
Email: onlinelearning@byui.edu
Live Chat: To access the chat feature, please visit the website
Website: Online Support Center
Disclaimers
You have the responsibility to carefully read assigned materials and instructions. Questions should be noted and directed to your instructor. You also have the responsibility to contribute to others' learning through your participation in discussions.
This syllabus and the course schedule may be changed at any time prior to or during the semester as the need arises. You will be notified by your instructor of any changes and may view them in the course documents.
University Policies
Read the University Policies page found in the Student Resources Folder in the course. See information there about student honor, students with disabilities, sexual harassment, complaints and grievances, and copyright policies. Students with disabilities should contact their instructor regarding many of the activities.
Academic Honesty
As followers of Christ, all BYU-Idaho students, staff, and faculty are expected to be honest in all their dealings. This honesty also applies and extends to behavior and actions related to academic work. It is critical for you to understand the seriousness of academic dishonesty and misconduct and strive to produce and submit only the results of your own effort and original work. While you are encouraged to work with one another and share ideas, the sharing of text, code, or anything like it for individual assignments is inappropriate. There is never an acceptable excuse for plagiarism or cheating. Academic dishonesty will not be tolerated by the university.
Your instructor will be responsible for creating and applying policies and penalties for academic dishonesty, which may include point deductions, a score of zero on an entire assignment, and referral to the Student Honor Office. Cases will be analyzed on an individual basis and penalties applied according to the severity of the misconduct.